We offer a very popular and effective service to propel your website's visibility higher in Google rankings in the organic listings section to achieve better online exposure for your business. To help you visualize the potential position we target for your website on page one, please view the image below.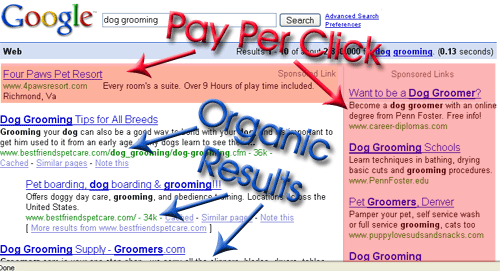 Traditionally, your options for website placement on Google was restricted to the Paid Ads Section employing a Pay-Per-Click (PPC) campaign. The campaigns can cost thousands of dollars to fine tune and studies have shown 85% of internet searches ignore these paid ads and consider them spammy. So, the next most effective, traditional and coveted piece of real estate that capture the clicks of your target online audience is the natural or organic listing section.
One of the main objectives of promoting your business online is to expose it to an online audience of searchers who represent qualified and valuable leads to you. As with any other form of marketing, the more targeted the audience and website traffic is, the better your response rate and profits will be. In order to hone in on this target audience, its necessary to reveal the most appropriate and profitable set of search phrases to target in your online marketing campaign. An equally critical factor is knowing the competitive nature of these same search phrases (keywords) and the SEO effort required to achieve page one top rankings. Common sense tells you that it should be easier to rank a dentist's site for "Orlando dental implants" than for "dental implants."
For this reason, we strongly advice you to preclude doing any search engine optimization (SEO) of your site with enlisting our services to perform an analysis of your website, competition and target keywords. This helps establish a reference point for how Google currently views your website and exposes any website design issues that could impact your potential rankings. Secondly, this analysis help establish online goals for targeting an appropriate set of search phrases (keywords) which are profitable, have decent search volume and for which your site can realistically achieve top rankings for. This keyword, site and competetive analysis is the foundation of any well organized, professional SEO campaign.
Click Here To Learn More About Our Analysis Package
With the analysis results in hand, our Local SEO Services can then be retained to conduct a methodical backlinking campaign for your site and to fine tune the website content/internal structure to boost its Google rankings. The backlinking campaign needs to be properly paced over time to look natural and to consistently increase Google's trust and relevance rating of your website. Severe Google penalties can be incurred for what is known as unnatural, over-aggressive backlink velocity.
We fully comprehend the accepted practices that manifest stable, long-term rankings improvement. Equally important is knowing how to avoid the novice and "Blackhat" pitfalls that would damage your rankings and site reputation with Google. Finally, we have invested in professional SEO Analysis software which reverse engineers the exact high authority and trusted backlinks utilized by the top 10 websites to secure their coveted positions. As with other aspects of life, "Success Leaves Clues." We can attempt to leverage these same high-authority to advance the rankings of your website. For all these reasons, it would be a prudent decision to enlist our Local SEO services to improve your online visibility.
Local SEO Package – Contact us for a Custom Quote
On-Site Optimization

Install any necessary WordPress SEO plugins
Install Google Analytics for progress & traffic tracking
Optimize Title, Meta an Header tag internal site structure
Setup Google XML SiteMap & robots.txt file
Optimize image filenames and attributes
Optimize permalink structure
Restructure existing post and page titles
Content optimization recommendations

Off-Site Optimization / Backlink Campaign

Determine existing site backlinks to avoid duplication
Research Top 10 site backlinks to find potential available sources
Commission 3 niche-relevant general articles for article/Web 2.0 usage
Generate 25 spun versions of each of the 3 general articles
Create Web 2.0 properties & submit spun general articles
Submit spun articles to major article directories
Research niche-relevant forums & submit profile/sig/content backlinks
Research niche-relevant DoFollow blogs and submit comment backlinks
Submit original articles to Social Bookmark sites
Do article marketing through high-authority directories like GoArticles, EZArticles, etc for backlinks
Draft & submit online press release for backlink purposes (Extra Fee)
Video marketing through YouTube and TubeMogul (optional)
Track backlink anchor text variety
Terms And Conditions
Please note that each Local SEO campaign involves a unique set of competitive factors and SEO efforts that necessitates we provide custom quotes. Furthermore, since we need to properly pace the backlink submissions to avoid the appearance of manipulating the search engine results. Google is keenly aware of and constantly adapting its algorithm to detect any organized effort to game or manipulate the search engine rankings. Google can take anywhere from 8-12 weeks to give credit for or index new backlinks. As such, we refuse to accept any SEO project that is less than 6 months in duration.