For the first time ever, the penetration of digital/online media has exceeded that of traditional media among small and medium-sized business advertisers (see graph below). With the undeniable growth in local online search trends and demise of Yellow page and newspaper advertising, it's critical to increase the visibility of your business online. The survival of your business depends on it! Either your marketing strategy adapts to this trend or risk becoming as obsolete as pagers and pay phones. Never underestimate the power of the internet. If local potential customers cannot find you online, you could be missing out on hundreds if not thousands of dollars.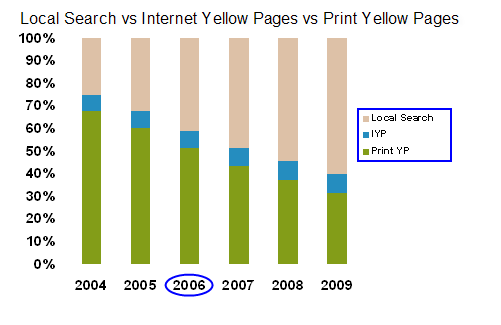 To help you position your website to take advantage of the local search trends and achieve your online goals, we offer a multitude of solutions. We strongly advice you to preclude any of these options with performing an analysis of your website, competition and target keywords. This helps establish a reference point for how Google currently views your website and exposes any website design issues that could impact your potential rankings. Secondly, this analysis help establish realistic and achievable goals for building relevant local search traffic to your site.
Click Here To Learn More About Our Analysis Package
We offer two popular and effective services to propel your website's visibility higher in Google rankings to achieve better online exposure for your business. To help you visualize the potential positions we target for your website on page one, please view the image below.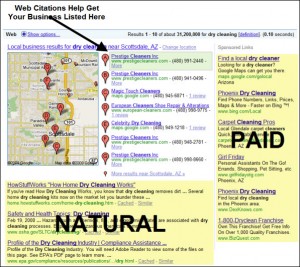 Traditionally, your options for website placement on Google was restricted to the Paid Ads Section employing a Pay-Per-Click (PPC) campaign. The campaigns can cost thousands of dollars to fine tune and studies have shown 85% of internet searches ignore these paid ads and consider them spammy. So, the next most effective, traditional and coveted piece of real estate that capture the clicks of your target online audience is the natural or organic listing section.
We have proven expertise and track records in analyzing the profiles of the top-ranked websites in this organic section (Competitive Analysis) to determine which precise local niche keyword searches (Keyword Analysis) your site can realistically achieve top rankings for.
Our Local SEO Services can then be retained to conduct a methodical backlinking campaign for your site and to fine tune the website content/internal structure to boost its Google rankings. The backlinking campaign needs to be properly paced over time to look natural and to consistently increase Google's trust and relevance rating of your website. Severe Google penalties can be incurred for what is known as unnatural, over-aggressive backlink velocity. We fully comprehend the accepted practices that manifest stable, long-term rankings improvement. Equally important is knowing how to avoid the novice and "Blackhat" pitfalls that would damage your rankings and site reputation with Google. Finally, we have invested in professional SEO Analysis software which reverse engineers the exact high authority and trusted backlinks utilized by the top 10 websites to secure their coveted positions. As with other aspects of life, "Success Leaves Clues." We can attempt to leverage these same high-authority to advance the rankings of your website. For all these reasons, it would be a prudent decision to enlist our Local SEO services to improve your online visibility.
Click Here To Learn More About Our Local Search SEO Services
Finally, in their quest to provide a more personalized and custom user experience, Google has recently integrated another section to the page one search results. Known as Google Local Maps or Google Places, the intent of this section is to accommodate the increased trend in searchers relying on search engines to reveal local products and services. In the past, you needed to enter the name of your city or town to locate the best and closest "Main Street" merchants for pizza, plumbing or dentists. Well, entering the town is no longer necessary. To enhance the results, Google has displayed and oriented these Google Local Business Listing results on a map (refer to the top-left section of the diagram above).
The good news is that this presents another opportunity to showcase your business on page one of Google and improve the visibility of you website and business. As with the Local SEO results, there's a right and wrong way to submit this Local Business Listing (LBL). Furthermore, merely having a LBL does not ensure placement into the 7-Pack (top 7 listings) which are the only ones actually visible on the prime Page One section.
As with the organic listing Page One section, there's certain practices and features which Google expects to find to secure a spot in the 7-Pack box. As with Local SEO, we have the ability to reverse engineer and dissect the Listings well positioned in the 7-Pack. We can leverage the same strategies which these businesses employed to achieve these coveted rankings. Such proven techniques as increasing the content density of your listing as well as the citation and review count will be pursued to advance your local listing.
Learn More About Our Google Local Maps Listing Services