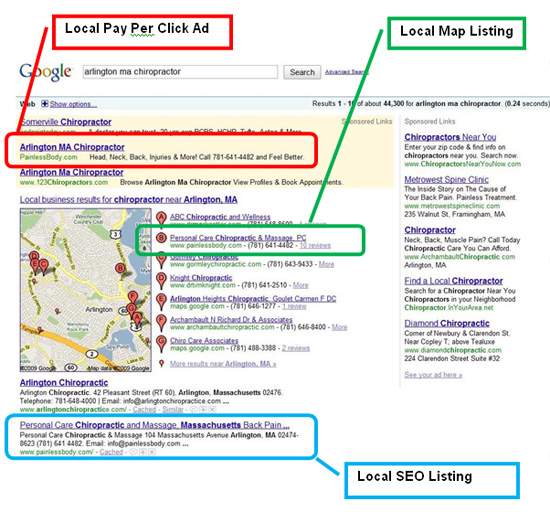 In their quest to provide a more personalized and custom user experience, Google has recently integrated another section to the page one search results. Known as Google Local Maps or Google Places, the intent of this section is to accommodate the increased trend in searchers relying on search engines to reveal local products and services. In the past, you needed to enter the name of your city or town to locate the best and closest "Main Street" merchants for pizza, plumbing or dentists. Well, entering the town is no longer necessary. Just try entering any of these keywords into Google to prove this to yourself. To enhance the results, Google has displayed and oriented these Google Local Business Listing results on a map (refer to the diagram above).
The good news is that this presents another opportunity to showcase your business on page one of Google and improve the visibility of you website and business. As with the Local SEO results, there's a right and wrong way to submit this Local Business Listing (LBL). Furthermore, merely having a LBL does not ensure high placement into the 7-Pack (top 7 listings) which are the only ones actually visible on the prime Page One section.
In optimizing a website to rank well for the traditional organic Local SEO listing section, a strong emphasis is placed upon presenting 100% unique content to Google. There has always been speculation that Google has a duplicate content filter to guard against displaying websites that scrape or mirror other content and don't provide any additional value to the searcher. However, with the Google Local Maps Listings, the opposite logic holds true.
To ensure that only legitimate, reputable and popular local businesses are showcased in its Local Maps Listing section, Google places an emphasis on finding as many identical references of that local business as possible. So, the criteria for qualifying for a top Local Maps slot become finding a businesses' exact same profile (address, phone number, company name) on many trusted business and local directories, review sites, personalized maps, local publications as possible. These are known as citations which are the equivalent of backlinks in the natural SEO world. Furthermore, as would be expected, a high number of customer reviews from independent sources contributes to increasing the ranking of a Local Business Listing. Both direct reviews submitted to Google Maps and indirect review found on sites like SuperPages and CitySearch are critical to have.
As with the organic listing Page One section, there's certain practices and features which Google expects to find to secure a spot in the 7-Pack box. As with Local SEO, we have the ability to reverse engineer and dissect the Listings well positioned in the 7-Pack. We can leverage the same citation and customer review strategies which these businesses employed to achieve these coveted rankings. Such proven techniques as increasing the content density of your listing as well as the citation and review count will be pursued to advance your local listing.
Google Local Maps Listing Setup – $699 Fee
(Note: Photos/Videos Creation Extra Fee)
Research 7-Pack Google Local Business Listing competition
Research optimal keywords and categories for Google Local Business Listing
Structure LBL content & submit Google LBL Listing using selected keywords
Create & submit business photos & videos (extra fee)
Establish Google LBL direct customer review submission strategy
Establish ongoing & indirect customer review citation strategy (citation/review submission work not included)
Optimize Existing Google Local Maps Listing & Conduct SEO Campaign – Contact Us For A Custom Quote
Research 7-Pack Google Local Business Listing competition
Research optimal keywords and categories for Google Local Business Listing
Beef up existing Local Business Listing content
Create & submit business photos & videos (extra fee)
Establish Google LBL direct customer review submission strategy
Establish ongoing & indirect customer review citation strategy
Establish customer-generated Maps referencing Google LBL
Ongoing monthly web references/backlink campaign via Web2.0 website properties